Water Heater Repairs & Installation
Whether it's washing dishes, laundry or a soothing bath your life wouldn't be the same without hot water in your home. Your hot water heater may be the most important piece of equipment in your home (after the toilet of course). We repair and maintain all types of water heaters, tanks, tankless, electric or gas. You can count on us to respond immediately if your system ever leaves you in the cold.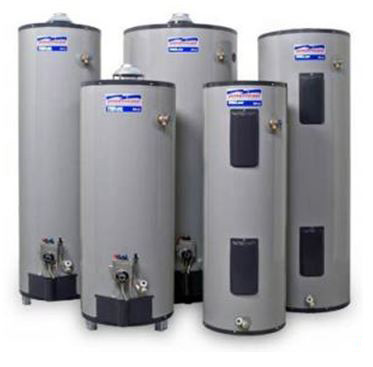 Is your water heater leaking or won't stay lit? Call us today for fast service!
Water heater repair and water heater installation are often put off as long as possible, mostly because water heaters last for such an extended period of time without issues they are easily taken for granted. However, calling GAC Plumbing for service sooner rather than later can save you time and money on water heater services. We have honest, up front pricing and expert knowledge of water heater installation, repair, and maintenance.
Our Santa Rosa City plumbing technicians can provide fast service for all major brands and types of water heaters, including tank, electric, power vent, and tankless water heaters. We also install and service all types of commercial water heaters.
Fact: Many water heaters can be repaired instead of replaced if you catch it in time!
Why Call GAC Plumbing Company for Water Heater Installation?
We are your local Santa Rosa technicians and your water heater installation and water heater repair specialists. They are factory trained to repair and install various types of water heaters ranging from high efficiency tankless water heaters to large commercial models. GAC Plumbing employs plumbers with the knowledge and skill to make repairs and ensure your installation meets plumbing codes. We can even hook up mobile home water heaters.
As a locally owned, community focused business, GAC Plumbing Company has the edge over any chain appliance store. Unlike those appliance stores, you can always trust our quality plumbing technicians who come to your home to make repairs or install your new water heater unit to be the best in the industry.
Tankless Water Heater Installation
Installing tankless water heaters begins with removing the traditional water heater tank and replacing it with an electric or gas heating unit to heat water directly. Also known as 'on-demand' water heaters, tankless water heaters heat only the water needed as it travels through the heating unit to the tap for immediate use. Any time you aren't using hot water, no energy is wasted on heating it. On average, homeowners can save up to 35% of heating costs with a correctly installed tankless water heater. At GAC Plumbing we can give you an endless supply of hot water when you need it while saving you money and helping you conserve water and energy.
How do I get a tankless water heater installed?
Tankless water heaters must be installed by a licensed, qualified technician to assure the warranty remains valid based on manufacturer's specifications for installation. Installation of a tankless water heater may also require obtaining a permit and meeting building code requirements. At 
GAC Plumbing Company
 our Santa Rosa plumbing technicians can take care of the process and assure you top performance without hassle.
What do I look for in a tankless water heater?
Where in your house do you need hot water? Some homeowners prefer a single point water heater for one appliance they don't use every day, while others who live in smaller homes opt for whole-house tankless water heaters. Either way, it's important to determine where in your home you want your new water heater located and how many gallons of water it is expected to handle daily. Our experienced Sonoma County technicians can help you determine what unit meets your needs.
Tankless Water Heater Repair
Installing a tankless water heater can save Santa Rosa homeowners a great deal of time and money on repairs because, when properly maintained, tankless water heaters can last for up to twenty years with only a few parts wearing out and needing replacement. If you find your water isn't heating properly, contact GAC Plumbing Company of Santa Rosa today for tankless water heater repairs on most major brands.
GAC Plumbing Company Factory Trained:
GAC Company is factory trained on State, AO Smith, Navien, Takagi, Rheem, Noritz, Rinnai, Bosch
And a authorized repair center for:

Bosch
Rinnai
Nortiz
Rheem
Navien
Takagi

Call Us Today:
We're just a phone call away!
(707)-538-8000